Tarantino has stated that the projection booth scene is both romantic and a consummation of Shosanna and Fredrick's relationship. After going over this previously in discussions with

pellnell
and

piecesofalice
(I love your brilliant minds), I decided to wrangle up screencaps and have at it. I've retread some previous ground, but it was necessary for the analyzation. Lots of screencaps along with key quotes from Tarantino and my rambling. Again, I'll let the actors' performances do most of the talking.
Now, I've gone over their scenes together in my previous
analyzation
, so if you've not gone over that, I suggest you do to get a better grasp on Shosanna and Fredrick, as I touch upon some things in this analyzation that I had been over previously.
Everything between Shosanna and Fredrick leads up to the projection booth, as their feelings for each other are fully realized and consummated; but even before that, a special trust and connection was established between the two of them. During the lunch meeting with Goebbels, Shosanna silently reaches out to Fredrick once Landa arrives, pleading desperately with him with her eyes for an understanding. The extended scene included on the
Inglourious Basterds
dvd supports this, as Fredrick comes to her defense as Goebbels lashes out at Shosanna for not showing his films on
Le Gamaar
's German Night. As I've stressed before - and will continue to do so - that it is important to pay special attention to Fredrick's facial expressions and his hands, as he conveys everything through them, just as how Shosanna expresses everything through subtle facial expressions. Tarantino has stated time and again that Fredrick's feelings for Shosanna are genuine; in the Goebbels lunch scene, Shosanna, too, realizes this, knowing that she can trust him:
Shosanna knows that Fredrick is her only ally; even though Fredrick is unknowingly damaging her, his intentions and feelings for her are entirely genuine. On some level, Shosanna knows this:
This of course, now leads to the projection booth scene, which Tarantino is extremely fond of.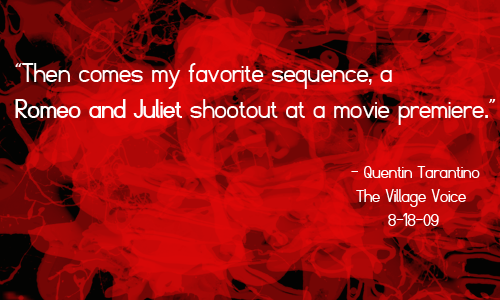 Leading up to their consummation, we see both Shosanna and Fredrick in moments of confidence and vulnerability, demonstrating that there's more to these two than previously shown:
Despite any of her own inner conflict, Shosanna's plan cannot be compromised, as it is the unfortunate reality of her circumstance; she must make the most of the revenge that Fredrick has unknowingly given to her:
Unbeknownst to Fredrick, he has been continuously hurting Shosanna with the best of intentions, and here, he puts her in the most difficult position. Just as she had reached out to him in the restaurant, Fredrick reaches out to Shosanna in the projection booth; though masked with humor, it is clear that he is troubled. Just like their situation in the restaurant, here at the premiere, Shosanna is Fredrick's only ally; she keeps him grounded and makes him feel human. Again, her expressions here are magnificent as she runs through a gamut of emotions:
So here now is where it gets interesting, as Fredrick barges in; this is a turning point for many where they dismiss Fredrick as a potential rapist and evil Nazi (the notion that Tarantino would create such a 2-D character is highly laughable). Allow me to re-quote from my previous analyzation:
It is obvious that Fredrick is just as damaged from this war as Shosanna and because he is on the other side of it doesn't make his trauma any less valid. Shosanna is older than him, and in the four years after the massacre of her family, she was able to recover, to react, to heal, even if not fully. Fredrick, at the age of 19, has found himself trapped in a horrific situation and had to survive. For his experience, he is hailed as a hero, with fame thrust upon him; Fredrick has no time (or not enough) to recover. Part of Fredrick's outburst could pertain to abandonment issues as well; he's the baby of the family, his mother died, his father then left he and his sisters to take care of themselves and each other, added in with Zoller's enlistment and fending for himself alone in the bell tower. Fredrick then finds himself in a foreign country surrounded only by people too enamored with his celebrity and when he finally meets and cares for the one genuine person he's known during this whole mess, she turns him away, which was the last straw for Fredrick's delicate mental/emotional state. With nearly all of Germany and the Third Reich swooning over him, Fredrick grew to enjoy some of the perks of celebrity, despite his guilt. Like
Audie Murphy
, off of whom Fredrick was based, mentioning the war, even watching himself re-enacting his ordeal, can send him back to the bell tower. But ultimately, he would not have hurt Shosanna, as was discussed
here
.
Daniel's facial expressions are excellent here as he perfectly conveys Fredrick's anguish and heartbreak. Observe how he's bathed in red lighting and how it slowly fades and his face falls the more upset he grows:
Even Shosanna seems uncertain of how to handle this; all she knows is that her plan cannot be compromised:
With his hands on his hips, Fredrick is attempting to take an authoritative stance, but it seems apparent that - just as with his interactions with Goebbels and Landa - he's out of his element. Notice also the finger-pointing:
And how, with the mere suggestion of possible intimacy with Shosanna:
Fredrick retracts his finger, the red lighting has dissipated, and he
wilts
:
There's a palpable tension and discomfort, Shosanna's eyes darting from Fredrick's face to his chest full of medals. Her own apprehension at what she is about to do is almost imperceptible, but it's there:
It's evident that Shosanna wields the power and though Fredrick doesn't quite object, the possibility of having sex with her is both thrilling and frightening to him:
Now, I've discussed this with others, and due to Fredrick's young age and the time period he grew up in, it would be entirely plausible for him to be a virgin. From the very beginning, Fredrick has been set apart from those he associates with, which is why he's able to both hurt and affect Shosanna so deeply. He's a complete contradiction: he's both a boy and a man, an innocent and a killer, naive, yet knowing; most and worst of all, Fredrick is Germany's Great War Hero and he loves her, a Jewish girl.
Fredrick doesn't spout any of the rhetoric Landa, Hellstrom, Goebbels, Hitler and others spew, and he doesn't wear any Nazi insignia. He's just a young man made into a hero because he survived a hellish situation. Fredrick is a lamb amongst wolves.
As I'm constantly repeating,
Tarantino doesn't do anything accidentally
, and to have Fredrick dressed in white and Shosanna in red is very much on purpose. To re-quote some extremely helpful information on his dress uniform, as provided by

piecesofalice
:
Zoller is wearing a special uniform that was unique to his division. It was designed to ultimately replace their standard ones, but only a few hundred were developed, as conservative reaction stopped it from being adopted. It really stands out in contrast to other German uniforms, and is something of a oddity. It's like the militaria version of that weird Emil Jannings cameo in the same scene.
And of course, most important of all:
And aside from the eagle national emblem on his chest and iron cross, Fredrick's uniform contains no Nazi insignia.
Part 2
se sentent:
awake
où: HOME.